ATTIVITA' DEL CASENTINO > Dormire > Hotel/Ristorante > La Torricella
Hotel Ristorante La Torricella

Loc. Torricella 14,
52014 Poppi AR
43.729115344280885, latitudine
11.770632863044739 longitudine
Present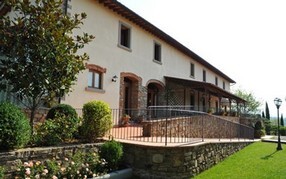 Hotel – Restaurant la Torricella is surrounded by an area of green landscape just a stone's throw of the national park of Casentino forest, close to Poppi, an ancient village full of history, art and culture; an ideal place for nature lover.
The hotel belongs to and is run by the Cipriani family who renovated the old farmhouse preserving the countryside characteristics: stones, terracotta tiles, wood and wrought iron. In a few words, the typical Tuscany farmhouse.
It is the ideal place for walking, cycling and for enjoyable expedition into the nearby cities of art: Florence, Siena and Arezzo. Many important religious, historical and cultural places dot the Casentino area: pievi (parishes), monasteries and castles.
Restaurant
Superior
Confort
Richiesta di Prenotazione Pranzo/Cena
Lascia qui la tua recensione, "grazie"
PRIVACY E POLICY DI QUESTA PAGINA